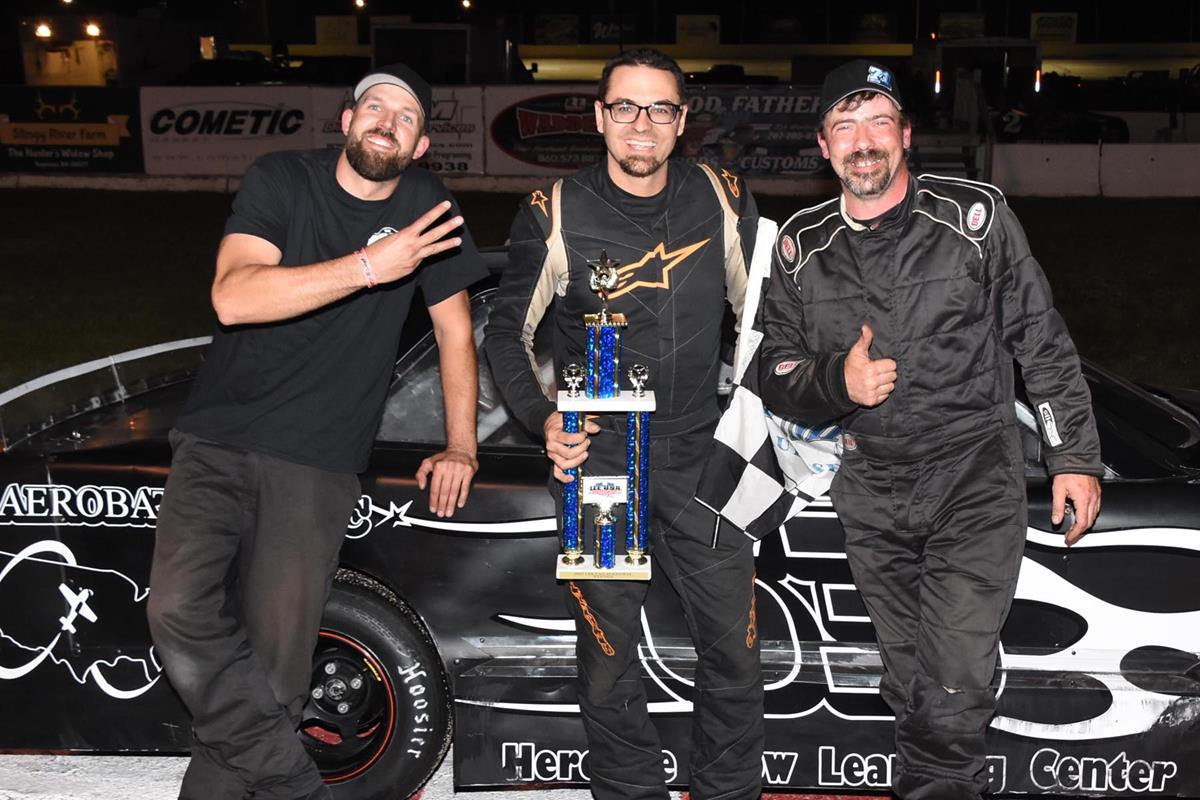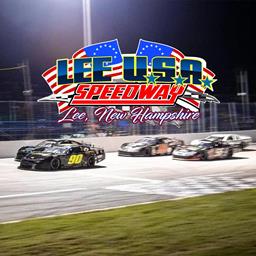 10/3/2023
Lee USA Speedway
---
That's a Wrap!
Lee, NH-
In a season that was truly dominated by Mother Nature as seen with three of the champions being named on Championship weekend earlier in September and two drivers having to wait till this past weekend's Russ Conway's Oktoberfest to collect their championships. Ironically Friday evenings racing card for Russ Conway's Oktoberfest was forced to be spread over Saturday and Sunday due to rain.
Wayne Helliwell Jr. collected the Rodfather Pro Stock Championship. He took the championship behind 1 win, 4 top 5's and 6 top 10 finishes.
Hayden Grenier took the Original Wheelman Late Model Championship behind 1 win, 5 top 5's and 5 top 10's.
David Cameron won the Black Flagged Podcasts Ridge Runners Championship with 4 wins, 5 top 5's and 5 top 10's.
Christin Destefano captured the O'Reilly Auto Parts Six Shooter Championship with 2 wins, 6 top 5's and 6 top 10's.
Colton Martin was this years MLM Diagnostic Services Championship. He collect 4 wins, 4 top 5's and 4 top 10's.
This part weekend we wrapped up the season with Russ Conway's Oktoberfest. Originally scheduled as a 3 day show as mentioned earlier we battled Mother Nature on Friday and lost. This then turned to 2 full days of racing action.
On Saturday we had 12 feature events, 2 of which wrapped up our points season crowing the last of our champions.
Andrew Morin won the make up race for the Original Wheelman Late Models and Colton Martin won the MLM Diagnostic Services Pure Stock make up race.
Top 3 Finisher's (1,2,3)
New England Dwarf Car Series
Jason Hodgdon, Andrew Harmon, Ryan Carman
NEMA
John Zych, Dylan Rock, Avery Stoehr
NEMA Lite
Alby Ovitt, Trent Goodrow, Avery Stoehr
Pro 4 Modifieds
Rob Richardi, Doug Meservey, Jack Dumas
Mini Stocks
Nick Maniatis, Skeeter Bearce, Bob Williams
NHSTRA Outlaws
Guy Caron, Steve Bly, Dan Sweeney
MLM Diagnostic Services Pure Stocks
Derek Cook, Colton Martin, Carlos Grenier
Black Flagged Podcast Ridge Runners
Nick Wilson, Tyler Lerman, Mike Dube
Original Wheelman Late Models
Nick Maniatis, Andrew Morin, Bill Helliwell
Black Flagged Podcast Ridge Runners/Seekonk Pure Stock Challenge
David Cameron, Justin Galloux, Mike Dube
Seekonk Pure Stocks (top 2)
Marc Shafer, Ben Castro
Little Webb 350 Supers
Jeffrey Battle, Bobby Timmons, Eddier Witkum Jr.
George Yeaton Memorial Race 1
O'Reilly Auto Parts Six Shooters
Wayne Helliwell Jr., Michael Yeaton, Matthew Hurteau
NHSTRA Modifieds
Alan Guibord, Ben Byrne, Scott Zelinski
Open Original Wheelman Late Model/Street Stock
Bill Helliwell, Rob DeAlmeida, Paul Newcomb
George Yeaton Memorial Race 2
O'Reilly Auto Parts Six Shooters
Steve Miller Jr., Billy Eastman, Steve Miller Sr.
George Yeaton Memorial Overall
O'Reilly Auto Parts Six Shooters
Steve Miller Sr., Jeremy Hayes, Micheal Yeaton
Granite State Pro Stocks
Bosowski Properties 150
Corey Bubar, Jimmy Renfrew Jr., Ryan Green
For full results for all touring divisions check out their websites and social media pages.
Special thanks to the following sponsors who sponsored trophies or added purse money to one or more divisions:
E-Keys for Cars
SOS Towing & Recovery
Bumpy's Auto Service
MLM Diagnostic Services
Original Wheelman
In City Sugar Shack
A&D Self Storage
Pioneer Automotive
Mtm Flooring
603 Mini Cup Racing Series
Ferland Family Race Against Cancer
GO Motorsports
Rice Handyman Service
Also thank you to SOS Towing and Recovery for bring the kids track tram!
We would like to thank all of the racers and crew members who joined us throughout the season! We also extend thanks to all of our sponsors and staff. But we also need to thank all of the fans for their support! We look forward to the 2024 season! Check back often for exciting news during the off-season and for the race teams information associated to rules and the banquet.
---
Article Credit: Ryan Lawliss
Submitted By: Mark Beaudry
Article Media
Back to News